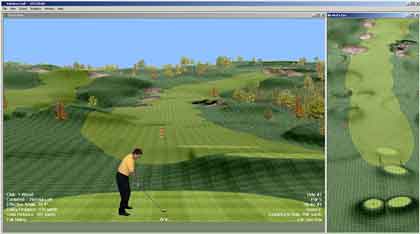 Infinitee Golf

Windows computer golf game.

Patent Pending Technology providing Billions of unique course layouts without additional purchases.

Realistic challenging courses.

Not a web-based game -- no internet connection required to play.

Beautiful graphics.

BILLIONS of courses (yes, BILLIONS). You'll never have to play the same course twice....unless you want to.

Play with your friends around the world with network play.

Compete with other golfers in our weekly tournaments.

Play every day on a different one of our billion courses, or play your favorite courses over and over. It's up to you!

Player statistics.

Free Demo available for download.

Compete with your young children using our Beginner and Toddler modes.

Did we mention BILLIONS of courses? We're not kidding! &nbsp
Infinitee Golf comes with over 700 Billion courses!!!

Jimmy Tournament&nbsp&nbsp(this week)
| POS | NAME | LOCATION | SCORE |
| --- | --- | --- | --- |
| 1 | Jimmy Jewkes | Helper, UT | +6 |
| 2 | Alan Robertson | Eagle Mountain, UT | E |
Phoenix Tournament&nbsp&nbsp(last week)
Overall Tournament Point Leaders
| POS | NAME | LOCATION | POINTS |
| --- | --- | --- | --- |
| 1 | Ed Connor | Philadelphia, PA | 231.3 |
| 2 | Roy Tibbitts | Houston, TX | 205.3 |
| 3 | Jim Davis | Boston, MA | 193.3 |
| 4 | Mike Hansen | Dallas, TX | 190.5 |
| 5 | Michelle Jensen | Phoenix, AZ | 188.6 |
| 6 | Sue Cook | Dallas, TX | 168.9 |
| 7 | Leroy Solberg | Fresno, CA | 161.7 |